Uploading Your Documents
Dokumenty potrzebne do wypłaty
Aby przetworzyć żądanie wypłaty, potrzebujemy co najmniej jednego dokumentu tożsamości w celu autoryzowania przesłania środków.
Aby zapewnić najszybszą wypłatę i uniknąć opóźnień, prosimy o prawidłowe przekazanie odpowiednich dokumentów. Można to zrobić w kilku szybkich i prostych krokach.
Oto czego potrzebujemy:
---
Dowód tożsamości
Do akceptowanych dokumentów należą:
Paszport
Prawo jazdy
Dowód osobisty (wydany przez organ administracji publicznej)
Dowód tożsamości:
musi być w kolorze

musi być ważny,

musi mieć wyraźne zdjęcie,

musi być podpisany,

nie może mieć obciętych narożników.
Potwierdzenie adresu
Do akceptowanych dokumentów należą:
Rachunek za media (gaz, woda, prąd)
Wyciąg bankowy
Potwierdzenie adresu:
musi być w kolorze

musi zawierać Twoje dane,

zawierać Twój adres,

nie może być starsze niż 3 miesiące.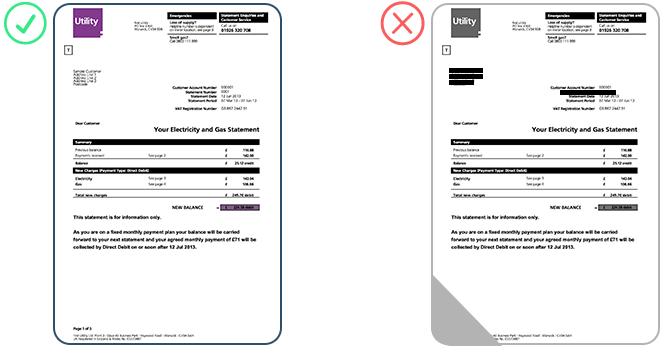 Karta kredytowa
Jeśli zdecydujesz się na depozyt za pomocą karty kredytowej, wymagamy kopii karty, która została użyta przed wypłatą. Ta czynność jest wymagana tylko raz w przypadku każdej karty kredytowej. Jeśli zdecydujesz się na korzystanie z tej samej karty kredytowej, nie będzie trzeba powtarzać tej procedury.
Prosimy o następujące:
Kopię przodu karty
Musi być kolorowa

Muszą być widoczne tylko 4 pierwsze i 4 ostatnie cyfry numeru karty

Należy zasłonić 8 środkowych cyfr numeru karty.

Przekazywanie dokumentów to łatwy proces, który musisz przejść tylko raz. Po prostu przekaż je za pośrednictwem kasjera. Przekazanie dodatkowych dokumentów jest wymagane, wyłącznie jeśli korzystasz z nowej karty kredytowej, nowej metody płatności lub jakieś dane osobowe (np. adres, imię i nazwisko itd.) uległy zmianie. Udanego wypłacania środków!
We check documents as quickly as possible, usually less than 12 hours. It could take longer if extra verification is needed, so if you haven't heard from us within 48 hours, please contact customer support.